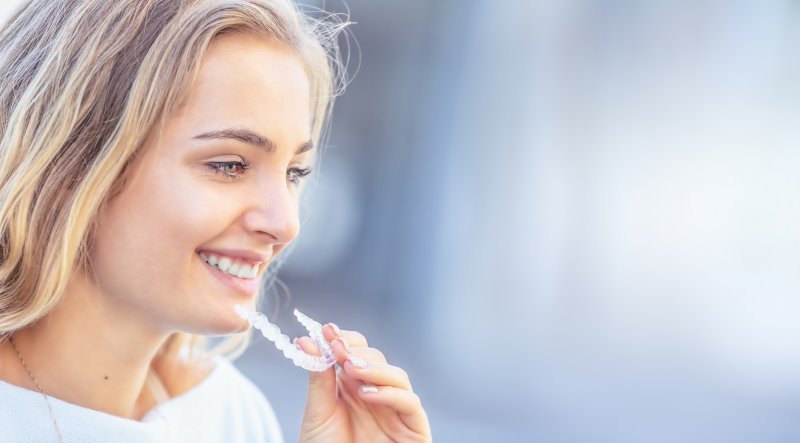 If you're doing Invisalign, you've made a great choice. After all, its clear aligners can straighten your teeth with almost no hassle! That said, you should be a bit more careful now that it's cold and flu season. These next few months could otherwise risk your oral and physical health. Thankfully, your local Summerfield dentist is here to keep you safe. Read on, then, to learn three tips for aligner tray wellness amidst the current season.
Be Mindful of Your Hands
While it might seem obvious, one rule can't be emphasized enough: wash your hands before touching your trays. Failing to do so could cause real problems down the line.
You see, it's easy to pick up cold and flu germs during the winter months. The microbes become widespread at this time, clinging to oft-touched surfaces. Touching your trays with unwashed hands, then, could expose your mouth to unwanted bacteria.
Of course, it's impractical to wash your hands every time you remove the aligners. Therefore, use an aligner removal tool like Orthokey as the need arises.
Drink Plenty of Water
You should always be hydrating with water, no matter the season. Still, this habit is even more crucial for Invisalign patients in winter.
In truth, the current cold affects more than skin and body temperature. It also produces dry air that dries out your mouth, depriving you of saliva. Dry mouth is already common for aligner wearers, so you'll need yet more water to offset the increased risk.
This water guideline especially applies when you're sick. In that scenario, you might breathe through your mouth, aggravating the dryness. As such, you'll need some H₂O if you don't want to deal with bad breath and cavities too.
Keep Work & Personal Areas Clean
Things like desks, computers, and electronics are dirtier than you'd think. You should thus clean them so they don't spread bacteria to your aligners.
Current research bears out this view. According to microbiologists at the University of Arizona, the average desk has 400 times more germs than a toilet seat. Cell phones are marginally better, but even they have ten times the bacteria. Needless to say, give these items an extra cleaning in winter before you set aligners near them.
Don't let cold and flu season make Invisalign harder than necessary. Instead, use the tips above so your smile journey goes smoothly!
About the Author
Dr. Tristan J. Parry is a dentist based in Summerfield, NC, having earned his DDS at Ohio State University. He's also a Fellow of the Academy of General Dentistry, an honor held by less than 7% of US dental providers. Given this background, his specialties are preventive, cosmetic, and restorative dentistry. Of course, he also provides Invisalign aligners! Dr. Parry currently practices at Magnolia Shores Family Dental and is reachable on his website and by phone at (336)-728-6153.