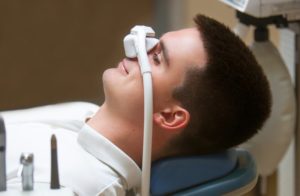 Do you tend to get anxious when it's time for your dental visit? Or maybe you just feel uncomfortable sitting in the exam chair for extended periods of time? Perhaps you don't deal with slight levels of pain well? These are all things that can be helped with a form of sedation dentistry called nitrous oxide. Before you consider this as an option for your next appointment, you may want to know if it is a safe option. Here's what to know about nitrous oxide!
Nitrous Oxide as a Safe Form of Sedation
Nitrous oxide sedation, also known as laughing gas, is an effective type of dental sedation used to help you feel relaxed throughout dental procedures. It's administered through a mask that fits over the nose. It's non-invasive and doesn't require needles or drugs, making it an attractive choice.
Nitrous oxide is considered a very safe option for sedation at the dentist. It has been heavily tested and deemed perfectly safe for use during a dental appointment. Since it's combined with oxygen, it can effectively produce a feeling of calm while also ensuring that oxygen reaches the brain. In addition, it is non-addictive and non-allergic, making it a great solution for a wide range of people.
What Are the Benefits of Nitrous Oxide Sedation?
This calming sedative is offered by many dentists due to the broad range of benefits it offers, including:
One of the easiest and safest forms of sedation to administer.
Significantly reduces your anxiety levels.
A fast-acting and effective way to keep you relaxed.
Helps avoid jaw, neck, and head discomfort during treatment.
Allows for more dental work to be done in one visit.
Effects wear off quickly, allowing for little-to-no recovery time.
Has a slight numbing effect.
How to Find Out If Nitrous Oxide Is Right for You
While nitrous oxide is a great option for many people, it isn't for everybody If you have any health conditions that make it difficult to breathe, such as asthma or chronic bronchitis, then it most likely isn't the right sedation choice for you. However, your dentist may be able to offer you other options, like oral conscious sedation. During your consultation, your dentist will gather information about your medical history and dental needs to help determine what would suit you best. No matter what, your dental team will ensure you receive the comfortable dental care you deserve.
Nitrous oxide is a wonderful way to relax more at your dental visits, no matter what the reason. Your smile may thank you for years to come!
About the Dentist
Dr. Tristan Parry and his team at Magnolia Shores Family Dental are eager to help you remain at ease as they help keep your smile whole and healthy! He provides a full range of services, including preventive, restorative, cosmetic, and emergency care. As a graduate of the prestigious Kois Center, as well as receiving extensive education in administering dental sedation, Dr. Parry is ready to care for any level of dental anxiety or discomfort you may have. To schedule an appointment, contact him through his website or call (336) 728-6153.