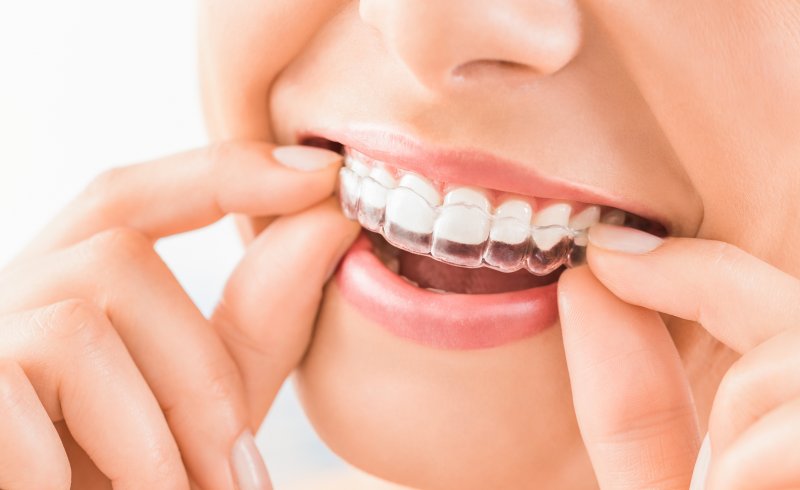 In the year or so you have your Invisalign aligners, there's quite a bit you're going to learn how to do. One of the biggest early barriers people tend to face is taking out their aligners quickly and easily. If you're in that situation, don't worry—you're far from alone. There are plenty of things you can try to make taking out your aligners as easy as possible. Here are a few of the most common.
Stay Warm
One reason your aligners could be hard to remove is if you've just been drinking cold water, or if it's cold outside. A drop in temperature can cause your aligners to contract, which naturally makes them harder to remove. If you're having trouble taking off your trays, try letting your mouth warm back up beforehand.
Start From the Back
People's first instinct when removing their aligners is to pry them off from the front, but it's actually considerably easier to start from the back. Try taking your aligners off of your molars and work your way forward, or start with just one side.
Get a Grip
Maybe the largest barrier to removing your aligners is how slippery they tend to be. If you need to get a grip, you might try using a paper towel to grab onto your trays. Latex gloves can also be helpful, and they're compact enough to carry with you in your aligner case.
Get Hooked
Speaking of things to carry with you, there are actually implements called aligner hooks that can make removing your aligner significantly easier. These are small plastic crooks that you can slide under the back of your aligner, allowing you to pry them off easily.
Stay Calm
The most important thing you can do is to relax. Rushing to remove your aligner as quickly as possible will ironically probably take you longer than if you take your time. Just stay calm and removing your aligner will be easier than you'd think.
One of your Invisalign's best features is that it's removable. This allows you all kinds of freedom in what you can eat and do. Taking advantage of that feature requires a little practice, but if you're patient, you'll get it down in no time at all.
About the Author
Dr. Tristan Parry is a dentist who's passionate about his work. He loves being able to combine art and science to create something that can change his patients' lives. He received his Doctor of Dental Surgery from Ohio State University and has completed over 500 hours of advanced training since. He's also been recognized as a Fellow by the Academy of General Dentistry, a distinction achieved by less than 7% of dentists across the U.S. If you have any questions about your Invisalign treatment, he can be reached at his website or by phone at (336) 728-6153.