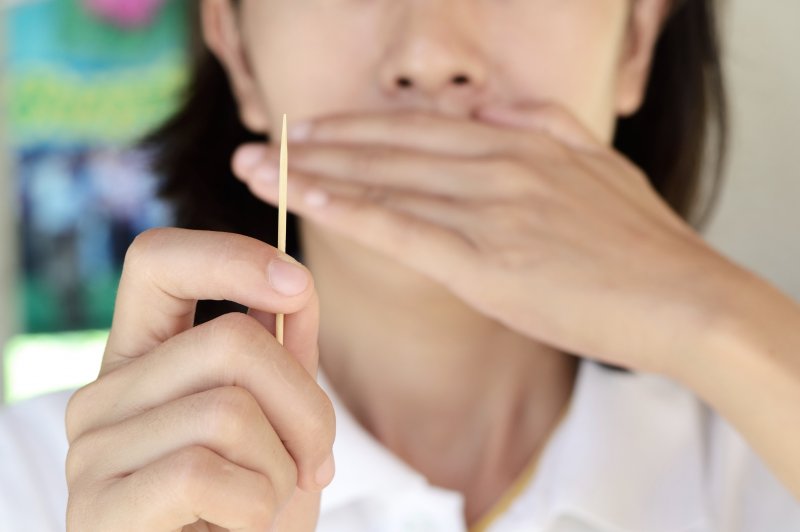 They're complimentary at almost every sit-down restaurant you've ever seen. They seem cool and classy and they have a name that literally says, "Pick your teeth with me!" They're called toothpicks, but are they suitable for the job for which they take their name? Research in emergency dentistry says they can cause much oral havoc.
Are Toothpicks Really that Bad?
Toothpicks seem easy and handy but using them carries real risks to your dental health.
Firstly, they can break and the splinters can lodge themselves in your gums. Worse than that, they can get so stuck in there that you might not be able to get them out yourself. You may need a trip to the dentist's office to remove them. Gum splinters can be quite painful and might lead to inflammation and infection if ignored.
Secondly, some people like to chew on toothpicks. Chewing wood can irreversibly damage the enamel of your teeth. Chewing can even cause toothpicks to splinter, leading to the oral ailments already mentioned.
Thirdly, using unbroken toothpicks can damage dental work like fillings and veneers. Toothpicks can wedge themselves into gaps in these restorations which can break, loosen, or undo all the work.
Finally, toothpick use can widen the space between teeth or expose more of the roots by shifting the gumline. This can leave the teeth exposed and lead to more cavity-causing stuck food. That's a lot of expensive damage to be done by a toothpick given out for free.
What Are the Alternatives?
Luckily, there are better ways to remove food from your teeth than toothpicks. One reason the act of flossing is so ideal for the job is that it is nearly impossible for floss to break in a way that could damage your teeth. Options include:
Dental floss – Comes in a convenient travel-ready package. Waxed varieties provide an extra layer of lubricant to keep the floss gliding smoothly.
Floss threaders – These stiff loops allow people with braces or permanent retainers to pull floss under the wiring and clean those hard-to-reach places.
Dental floss sticks – These plastic forks hold a small, tight length of floss between them. Some people find these devices to be more comfortable than free floss.
Water flossers – These devices use gentle water pressure to wash away plaque and clinging bits of food. Their use requires special attention to get a thorough cleaning and they can be messier and more expensive than traditional floss.
Even if you like the look of shades and a leather jacket while holding a toothpick in your teeth, be sure to stick with safer and more reliable cleaning methods. Keep your teeth and gums healthy and happy by flossing instead.
About the Author
Dr. Tristan J. Parry leads the team at Magnolia Shores Family Dental in North Carolina. The staff is dedicated to using art and science to serve patients' oral health needs and educate clients about how to take better care of their teeth. If you're concerned about tooth damage from toothpicks, he can be contacted on his website or at (336) 728-6153.