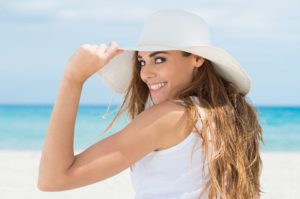 With summer in full swing, it's finally time for that family beach vacation you've been anticipating for months. You're looking forward to relaxing on the shore, watching your kids play in the waves, and taking photos to preserve these memories for the future. If your teeth are less than perfect, though, you might not feel enthusiastic about getting your picture taken. Luckily, your cosmetic dentist holds the key to achieving a picture-perfect smile – veneers. Keep reading to learn how veneers in Summerfield, NC can give you the beach-ready smile you've dreaming of!
What Are Veneers?
Veneers are thin sheaths of dental porcelain that are bonded to the front-facing side of teeth. Essentially, they function as little masks for your teeth, covering up all kinds of aesthetic flaws in one fell swoop. Every veneer is 100% customized to ensure that it looks natural compared to the rest of your pearly whites. Other people shouldn't even be able to tell that you got dental work done; all they'll see is your beautiful, confident grin! Also, dental porcelain is highly resistant to staining, so you can look forward to enjoying a bright smile for years to come.
How Veneers Can Give You a Beach-Ready Smile
After you've had a consultation with your cosmetic dentist, getting veneers usually takes only two appointments. The first visit involves preparing your teeth and taking impressions, which the dental lab uses to design your veneers. In a few short weeks, the veneers will arrive at your dentist's office from the lab, and you'll return to have them placed. It's that easy!
Here are just a few of the things that veneers can do to completely transform your smile:
Cover up stubborn stains – even those that don't respond to teeth whitening products.
Close small yet noticeable gaps between the teeth.
Make mildly crooked or rotated teeth appear straighter (which is why veneers have the nickname "instant orthodontics").
Altering the shape or size of your teeth to make them look symmetrical.
Fixing a tooth that is chipped or cracked.
Are Veneers Right for You?
If you're interested in improving your smile in any of the ways listed above, then you might be a good candidate for veneers. The only caveat is that your teeth must be healthy first. A veneer may not be enough to repair a tooth with a significantly large fracture, for example. However, as long as the tooth in question is cavity-free and only has cosmetic imperfections, then your dentist will most likely encourage you to move forward with the veneers process.
Every smile is different, so the only definitive way to learn whether veneers are right for you is to schedule a consultation. Your dentist is happy to help you achieve a camera-ready smile and make this summer vacation one to remember!
About the Author
Dr. Tristan J. Parry is a Fellow of the Academy of General Dentistry, a feat that fewer than seven percent of all general dentists in the U.S. ever accomplish. Over the course of his career, he has completed more than 500 hours of continuing education training in various areas of dentistry, including cosmetic treatments like veneers. He would love to help you make your beach smile a reality. To get started, contact Magnolia Shores Family Dental at 336-644-2770.