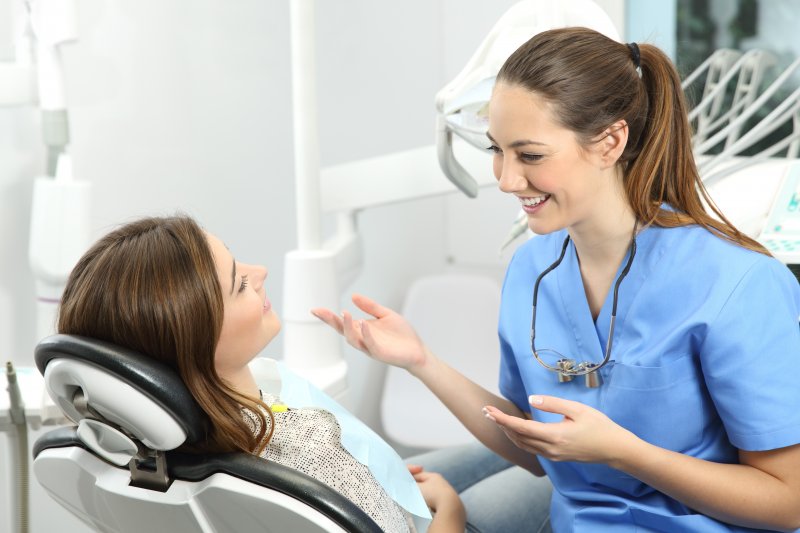 If you recently decided that you want to get dental implants to replace missing teeth, it's normal to feel a little apprehensive. After all, the dental implant procedure involves oral surgery. The decision to move forward with this process shouldn't be made in haste. It's important to make sure you have all the information you need to know if you're making the right decision for your smile. To help you out, here are four questions that you should ask your dentist at your dental implant consultation.
Question #1: How Much Experience Do You Have with Dental Implants?
Ask your dentist how much experience they have performing dental implant procedures. This will help you determine if their seasoned enough in this type of treatment to give you the results you want. Find out if they're a member of the International Congress of Oral Implantologists, and ensure that they're a board-certified periodontist or an oral surgery professional.
Question #2: Am I a Good Candidate for Dental Implants?
Dental implants are inserted directly into the jawbone. This means that having a healthy jaw is crucial to a successful procedure. Your dentist will be able to tell if your jawbone is dense enough to support implants by taking X-rays. If it isn't, they may recommend a bone graft. Additionally, since the implants have to go through the gums in order to access the jaw, oral health problems like gum disease will need to be treated before you proceed.
Question #3: How Does the Dental Implant Procedure Work?
Dental implants are placed into the jawbone where they fuse with it through a process called osseointegration. The amount of time it takes to complete the procedure will vary depending on how many implants you're having placed, it usually takes one or two hours to insert each one. Your dentist will usually have you come back on a later date to have the restoration, which is the replacement tooth, attached to the implant. They will be happy to explain the process from beginning to end to ensure that you're comfortable with the procedure.
Question #4: How Long Does Recovery Take?
Within a week or two of implant surgery, most people start to feel normal. Even so, it will take four to six months for the jaw to heal and osseointegration to be completed. Make sure to make arrangements for work, school, or any other responsibilities so you have enough time to recover. Avoid eating sticky, sharp, crunchy, tough, acidic, chewy, or spicy foods and anything overly hot or cold as these can irritate your mouth.
When you go to your dental implant consultation, make sure to ask your dentist these four questions. This will ensure that you have all the information you need to decide if you want to move forward with the procedure and once again have a complete, brag-worthy smile!
About the Author
If you're missing teeth, Magnolia Shores Family Dental can help you fill in the gaps in your smile with one of their many tooth replacement options, including dental implants. For the surgical stage of the dental implant procedure, they will refer you to a trusted and highly skilled oral surgeon located right next door for your convenience. This ensures that you're receiving the best care possible so you can soon be on your way to a gorgeous, full smile. Visit their website or call their office at (336) 644-2770 for more information on dental implants or to make an appointment.