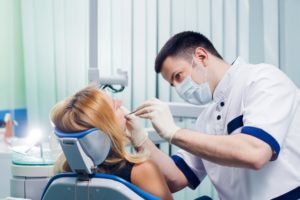 If you're not happy with the way your teeth look, you're not alone because few people are born with naturally flawless smiles. Although you can't change your genetics, you can get the attractive smile you deserve with the help of a cosmetic dentist. You might think it's only for celebrities, but people from all walks of life can give their confidence a boost. You have more options than ever to find a solution to fit your needs and budget. However, dental bonding continues to be the most popular of all cosmetic procedures. If you want a picture-perfect smile without breaking the bank, dental bonding might be the answer.
What is Dental Bonding?
Dental bonding is a procedure that offers both restorative and cosmetic benefits. A composite resin material is used as a putty to fix multiple imperfections, like chips, gaps, and discoloration. It can even be used as an alternative to metal fillings to treat tooth decay. Your dentist will use a shade guide to match the resin to the color of your teeth. It will blend in with your enamel for natural-looking results.
Dental bonding provides a quick, effective method to resolve several concerns after a single appointment. You get a lot of bang for your buck, which is why it continues to soar to the top among the most popular elective dental procedures. Since it has restorative and cosmetic purposes, you may be able to use your dental insurance to offset the cost to lower the amount you'll need to pay. An attractive smile might be more affordable than you had expected.
Is Dental Bonding Right for Me?
Dental bonding is suitable for many patients, but you'll still require a consultation with your cosmetic dentist to ensure it is right for you. They'll examine your smile and learn more about your goals to determine if it will address your concerns. Generally, you're a candidate for the procedure if you want to correct:
Tooth decay
Stains or discoloration
Chips or cracks
Exposed tooth roots
Gaps between teeth
What are the Benefits of Dental Bonding?
Besides its affordability, thousands of people choose dental bonding every year because of its numerous benefits, including:
Natural-looking results to improve self-esteem.
Durable to withstand the pressure of biting and chewing.
Corrects several issues to improve health, function, and aesthetics.
Easy maintenance and care.
Results can last for a decade or longer.
Affordable for all budgets.
Get a Beautiful Smile Today
It's true, some cosmetic procedures are expensive, but that doesn't mean you can't get the smile of your dreams. Dental bonding can create the transformation you want without straining your finances.
About Dr. Tristan J. Parry
Dr. Parry earned his dental degree at the Ohio State University before continuing his training in periodontics and pedodontics. He has also undergone advanced education in a variety of specialties, including cosmetic dentistry. You can feel confident your smile is in qualified hands. Contact our office today to see if dental bonding is right for you.